Organic Citrus Calendula Body Lotion
Regular price

Sale price

$18.00
Description

Introducing our all-natural body lotion, the Organic Sunkissed Citrus Calendula infused and purified by patented nano silver. This lotion is formulated using only the best 100% clean ingredients to naturally moisturize and heal. The clean citrus/tangerine scent is made from the purest oils without the harmful effects of fragrance. It offers a daily moisturizing and healing experience for your skin. At Active Earth, we believe in the power of nature to provide unparalleled nourishment and care. Our unique formulation combines the finest organic ingredients, including calendula, jojoba, shea butter, and the advanced healing and purifying properties of patented nano-silver, which is considered to be nature's natural healer, to create an all natural body lotion that deeply hydrates and promotes skin health that can be applied as a daily body and face lotion.


PATENTED NANO SILVER "Nature's natural healer", is an antimicrobial that soothes, naturally purifies the ingredients and deeply moisturizes skin while reducing inflammation.

ORGANIC CALENDULA A natural remedy for skin health, is an anti-inflammatory plant that reduces redness and swelling, calms, rejuvenates and heals the the skin, including minor burns, rashes, and irritated skin conditions.

JOJOBA OIL is a Non-comedogenic which moisturizes without clogging pores soothes dry skin, and calms sunburn. Suitable for acne-prone skin.

SHEA BUTTER is Deeply moisturizing, Long-lasting hydration and Promotes elasticity while locking in moisture.


Active Earth is committed to using ethically sourced, natural and organic ingredients, ensuring that our body lotion is free from harmful chemicals and artificial additives. We pride ourselves on being a cruelty-free brand, and our lotion is never tested on animals.
Ingredients

Infused and purified by patented Nano-Silver "Nature's natural healer" , Organic Calendula, Organic Jojoba, Organic Shea Butter, Hylauronic Acid, Organic Coconut Oil, and other 100% Natural Ingredients.

Free of Parabens, Synthetic Fragrance, Phthalates, Formaldehyde, Aluminum, Endocrine Disruptors and Harmful Chemicals.
Active Earth Silver

Unlocking the Power of Nano Silver "The Natural Healer" in Cosmetics and Skincare

At Active Earth, we harness the remarkable properties of nano silver to
bring you cutting-edge cosmetics and skincare products. Nano silver,
with its unique attributes, offers a range of benefits that can
transform your skincare routine.

Benefits of Nano Silver in Cosmetics and Skincare:

Safety of Active Earth Silver:

At Active Earth, our commitment to product safety is underscored by the extensive pedigree of our patented nano silver technology, which is supported by over 25 years of dedicated research and manufacturing history. We take great pride in partnering with a state-of-the-art factory renowned for producing both medical devices and cosmetics, showcasing the versatility and trustworthiness of our silver.

Furthermore, it's worth noting that silver-based products have been a trusted choice for generations. In fact, a silver gel has been traditionally administered to every American newborn for decades, safeguarding their eye health mere minutes after birth.

To reinforce our unwavering commitment to safety, we conduct rigorous third-party cytotoxicity studies. These independent assessments not only validate the efficacy of our product but also provide unequivocal assurance of its safety, assuring you that you can confidently use our silver-based solutions for your needs."

1. Antimicrobial Properties:
Nano silver is a potent antimicrobial agent, capable of inhibiting the
growth of harmful bacteria on the skin's surface. This makes it highly
effective in preventing and treating acne, reducing the risk of skin
infections, and promoting a healthy complexion.

2. Anti-Inflammatory Action:
Nano silver possesses anti-inflammatory properties that help calm irritated and inflamed skin. It is particularly beneficial for those with
sensitive or reactive skin, providing relief and reducing redness.

3. Wound Healing and Scar Reduction:
Nano silver accelerates the skin's natural healing process. It aids in the
repair of damaged skin, promoting the growth of healthy tissue and
minimizing the appearance of scars.

4. Deep Moisturization:
Nano silver contributes to effective moisture retention in the skin. It
helps create a protective barrier, preventing moisture loss and
maintaining skin hydration, resulting in a more youthful and supple
complexion.

5.Purification and Detoxification:
Nano silver acts as a natural purifying ingredient, drawing out impurities
and toxins from the skin. This detoxification process can help improve the overall health and appearance of your skin.

6. Eco-Friendly and Safe:
Nano silver is environmentally friendly and safe for regular use. It is a
sustainable alternative to some traditional skincare ingredients, making it an ideal choice for the conscious consumer.

Why Choose Active Earth:
Our commitment to harnessing the power of patented fda approved nano silver in our skincare and cosmetics ensures that you experience the full
spectrum of benefits. We prioritize quality, safety, and sustainability, delivering products that enhance your natural beauty while promoting
skin health.

Active Earth's nano silver-infused cosmetics and skincare products offer a holistic approach to achieving radiant and healthy skin. Explore our
range and discover the transformative benefits of this extraordinary natural healer.

SUGGESTED USE

Daily Moisturizer: Apply our organic calendula lotion to your face and body as a daily moisturizer. Its hydrating and nourishing properties help keep your skin soft and supple, making it perfect for everyday use.

Soothe Irritated Skin: Calendula is known for its anti-inflammatory qualities. Use the lotion to soothe irritated or inflamed skin, whether it's from minor cuts, insect bites, or skin conditions like eczema or psoriasis.

Sunburn Relief: If you've spent too much time in the sun, apply our calendula lotion to sunburned skin. It can help reduce redness and provide relief from the discomfort of sunburn.
Share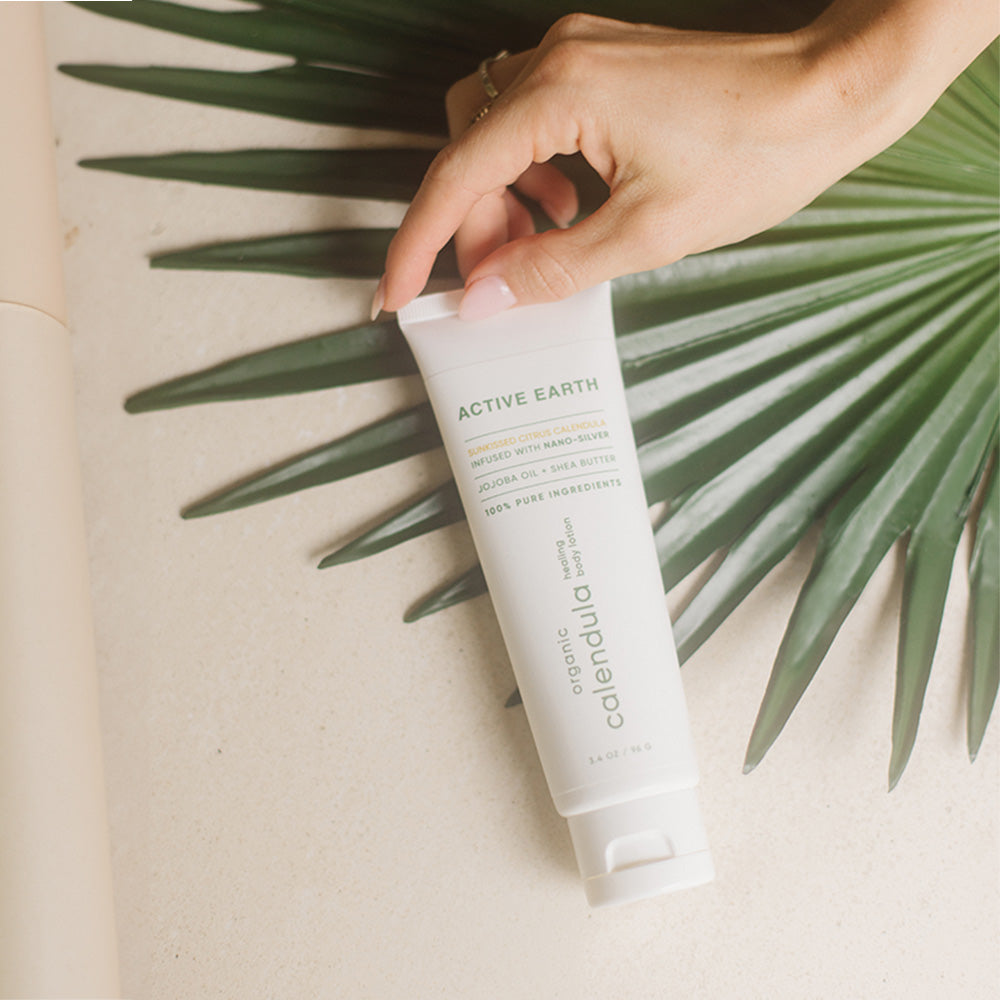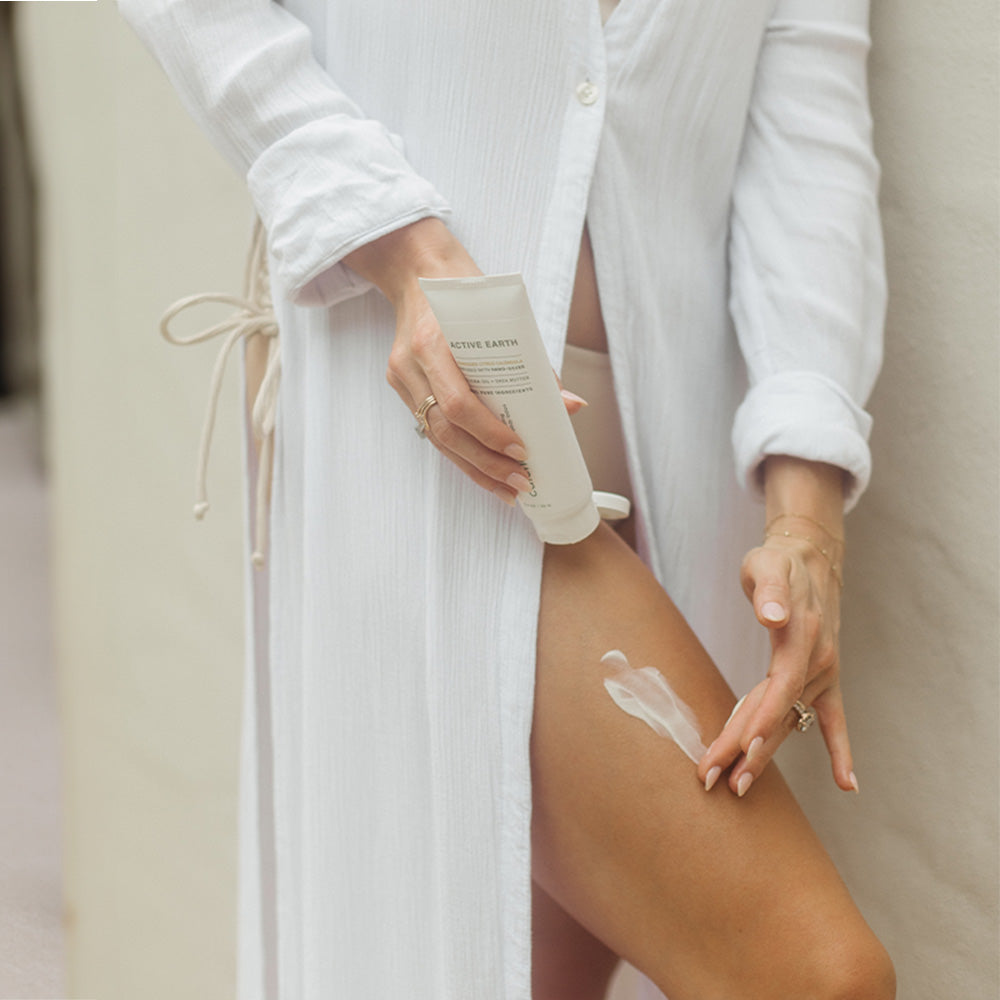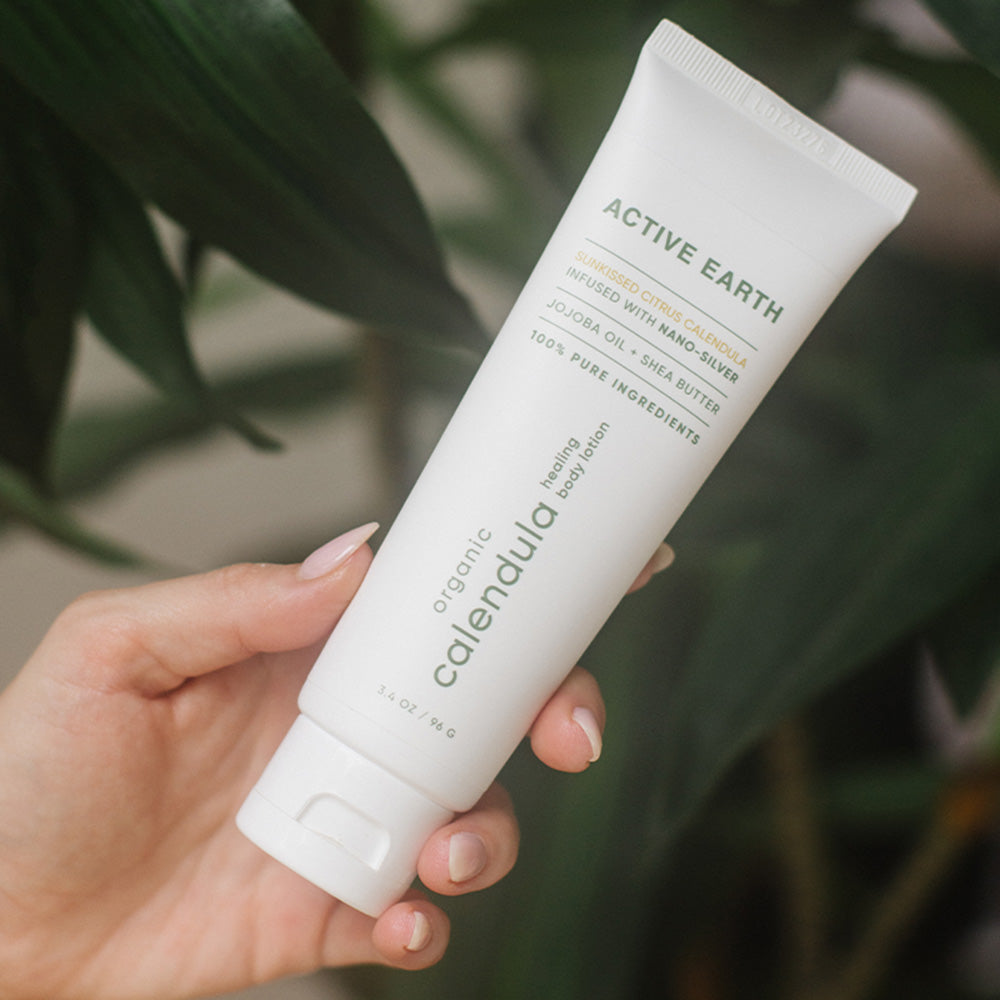 Calendula lotion
Love it! The smell is amazing.
So far so good
I've only used it for about 3 days now but I've definitely noticed a difference in the softness of my skin, especially my hands. I do love the smell- it's very light and citrusy.
Amazing Product!
I have tried everything for my eczema on my bra line, nothing worked!
I put on Organic Citrus Calendula Body Lotion as soon as it came in the mail. Since that application, the itching and burning stopped and the roughness is slowly going away.
Thank you so much i will be stocking up on this cream. Thanks again
Great!
Love it so far! Gonna order another one.